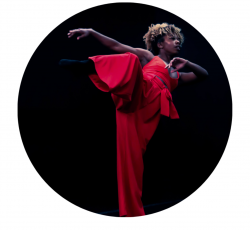 "I would describe myself as a humanitarian. I love human connection and I stand up for what I believe in and what's right". Choreographer and dance teacher Veronica Silk strives to co-create safer spaces with her students, as she connects to the magic within the youth in the Black dance community. 
At Voice of Purpose, we got to know Veronica and her brilliance through our 6 month co-researching container, the Catalyst Incubator, which provided a space for a small group of artist educators across Canada and the U.S to come together and connect while receiving mentorship and coaching on program development and design. The Incubator is a part of our Engaging Artists in Digital Learning Environments (EADLE) larger research initiative, which strives to help artist educators connect deeply with their purpose, in order to expand their impact, and navigate the complexities and inaccessibility of the online world, with the question in mind: What does it require to serve the needs of artists in a digital learning environment? This research project is a partnership initiative led by Voice of Purpose, Art Starts and several transformative arts organizations across Canada and the US, funded by Canada Council for the Arts
Veronica explains her connection to her work with her students. "They are the next generation. They will be speaking out against things, and they will be standing up for what's right and we have  to plant these small seeds of love and growth at a young age, so they're not afraid when they get older".
Historically speaking, the roots of many dance academies and communities have their roots steeped in institutional racism. In today's age, we still live with the trickle-down created with the exclusion of Black dancers on large or well known stages. Veronica points out that "We're still just now doing things and breaking records of, like, the first Black principal dancer which was Missy Copeland in 2018". So, by being a part of the creation and support of Black student dancers, we are actively contributing to the changing of history and present-era record breaking. 
"Black students need a space to just breathe and be themselves and not have to 'put on' for anyone. And I can hold that space for them" says Veronica proudly. She explains that she wants to be an avenue for her students to know that their voices matter. "I heard someone say that 'voice is the antidote to fear'", she recalls, explaining that once we can actually name and voice our fears, that we can address them from a place of healing.
Many know that the only difference between a student and a teacher is that a teacher commits to a lifetime of being a student. Veronica proves this to be true when she says "I strive to keep on growing and learning how to support my students".

Veronica's newest venture is an 8 week hybrid dance program called NextGen Dance Collective, done in partnership with select schools, and open to Black students ages 11-15 years old; 8 students will be selected for a $1000.00  scholarship which covers the full cost for this pre-professional 8-week training program. Veronica explains that "It's a place for Black dancers to feel supported and heard to get their frustrations out; just to laugh and have fun and learn about other like-minded individuals their age".
When asked about what offerings her participants can expect, Veronica tells us that "The medicine is the tools. Giving them the tools to have that safe haven within themselves when they're out of the program and to continue that on their artist journey".
Know any youth who may be a good fit? Here's the registration form to apply for the scholarship and learn more information.